Phew! We have just booked a hotel to stay in Santorini for our family! Oh my, it wasn't easy to pick one but eventually we managed to book a beautiful place even just two months before our Greek Islands family vacation. Santorini and a family vacation are not two concepts that come first to mind. However, after our research we found many good family hotels in Santorini. So, which are the best family hotels in Santorini for both a great experience and for your budget? Here are our picks and where we booked to stay and why.
As a travel loving family we plan, book and organize our trips all by ourselves. We try to have the best experience with relatively affordable prices. It isn't always easy to have the best of the two worlds but with good planning we try to perfect it as much as we can.
Disclosure: Some of the links bellow are affiliate links, meaning that at no cost to you, I will receive a commission if you click through and make a purchase. For more Information, read my affiliate disclosure here.
What is the prettiest city in Santorini?
A family or a couple, the reason why you want to visit Santorini is same for all: the spectacular pictures of Santorini you have seen! You have seen all the pictures with blue domes, whitewashed villages and an amazing sea and you would like to experience it for yourself for sure. This picturesque area is located on the north western coasts of the island. The famous volcanic crater submerged with sea that is known as "Caldera" is also at the same part of the island.
There are four towns around Caldera: Fira, Imerovigli, Firostefani and Oia. Fira is the capital of the island and is the place close to the port where Greek ferries and cruise ships bring many travelers each day. The most picturesque and the most famous of the towns is Oia, the northernmost one around Caldera.
People, especially the cruise travelers visiting Santorini as a day trip, usually only hop to the towns of Fira (also known as Thira) and Oia for a few hours. For the ones who have some longer time on the island a hike around Caldera is very popular. The hike starts from Fira, goes through Imerovigli and Firostefani and reaches Oia at the end. It takes around four hours to finish the whole hike but you can always choose to walk a shorter section of it.
Which part of Santorini is best to stay for families?
Where to choose to stay in Santorini as a family is totally up to your travel budget. Santorini is an expensive vacation destination. In addition, when you travel as a family you need a bigger accommodation to stay in which increases the costs. Obviously, the hotels to stay around the picturesque villages in Santorini are more expensive. When you choose to stay a little further, on eastern or southern parts of the island, you would find relatively cheaper places to stay.
Speaking of the best part to stay in Santorini, definitely places around Caldera would be the best. This area offers you some amazing views and proximity to the best places to see on Santorini. Fira and Oia are so beautiful but the price tags in the middle of summer especially for Oia are sky rocketing. That's why, choosing to stay in the villages in walking distance to these towns is the best option. Thus, the prices would get lower and you would stay away from the crowds. Staying in Imerovigli and Firostefani instead of Fira or staying in Finikia, a little village just 15 minutes walk away of Oia would be a good choice.
Choosing the best family hotels in Santorini
Santorini offers so much more than a basic place to stay in and it definitely doesn't ease the task of which hotel to choose at all. It is not that kind of place where you go to a family resort hotel and all is included as a package holiday. Hotels in Santorini come with so many appealing things that would enhance your vacation. Different places offer different things such as indoor/outdoor bath tubs, amazing views, cave rooms, pools, breakfast at your own terrace with a view and even rooms with private pools. Sky (and your budget) is the limit, all is provided for a relaxing and romantic vacation in Santorini.
Our picks of the best family hotels in Santorini
When searching for places to stay in Santorini for families we tried to find not just a place to accommodate but a hotel that would enhance our Santorini vacation. In addition, since we are a family of four, looked for a place with one full and two twin beds, preferably in different bedrooms. We didn't opt in for the choice of two separate double rooms but preferred family rooms for more affordable prices.
Lotza Studios in Finikia, Oia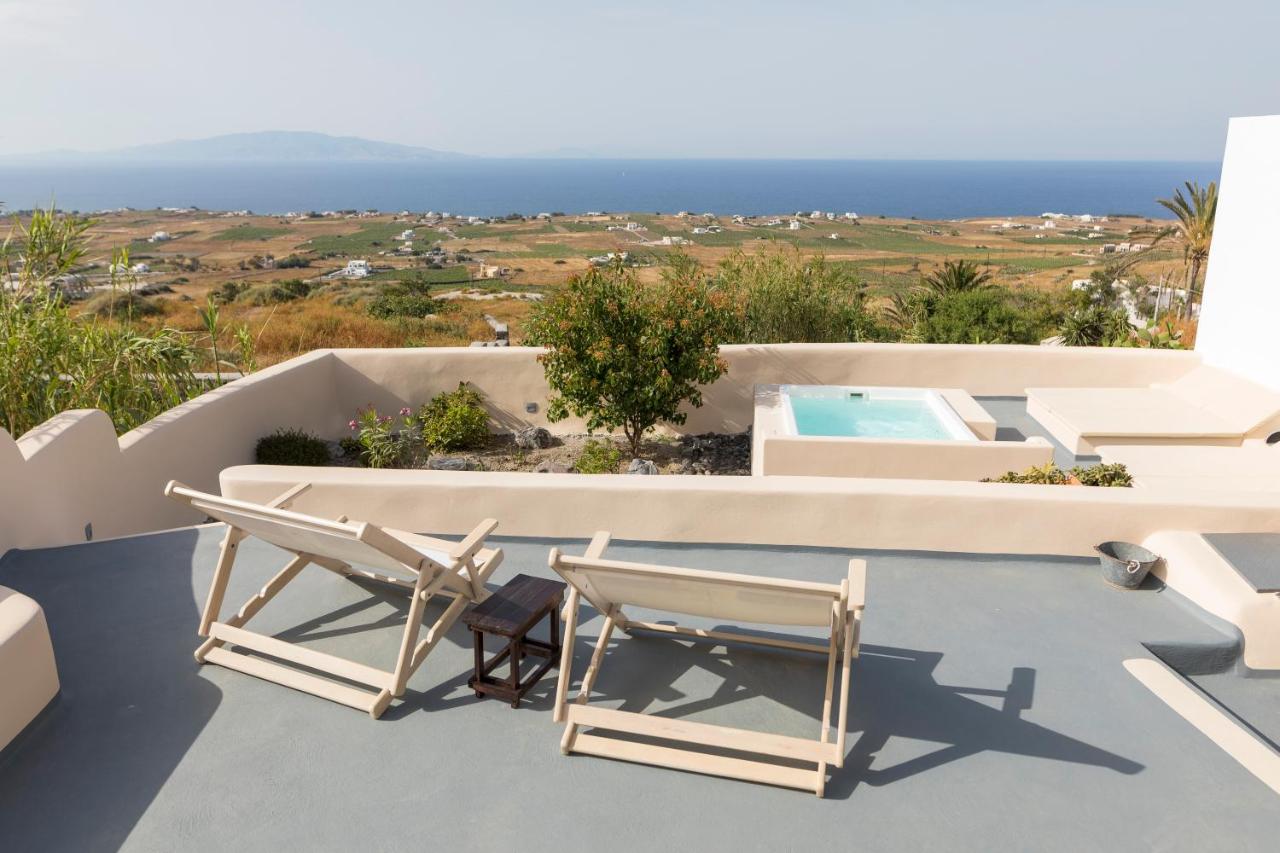 We chose to stay in Lotza Studios for a family vacation in Santorini (booking.com score 9.3 for more than 300 reviews). This hotel is in 15 minutes walking distance to Oia but is relatively more affordable compared to prices of the hotels in Oia. Since Oia is the most beautiful place in Santorini we preferred to stay close and enjoy it more. By staying in close distance to Oia, we are planning to have some early walks to the town before the crowds come. Besides, we can enjoy some late evening drinks in Oia without the hustle to drive to a further hotel.
The original building of Lotza Studios is more than 200 years old. It is recently restored to modern standards and offers some family rooms for different price ranges. Family apartment with indoor hot tub, two bedroom apartment with outdoor hot tub or a sea view apartment with outdoor hot tub are some of the choices to stay for a family or a group up to four persons. I will share my review and more photos of the hotel and around after our vacation to Santorini.
For prices of Lotza Studios please click here.
For more hotels to stay in Oia, please click here.
Manos Small World in Firostefani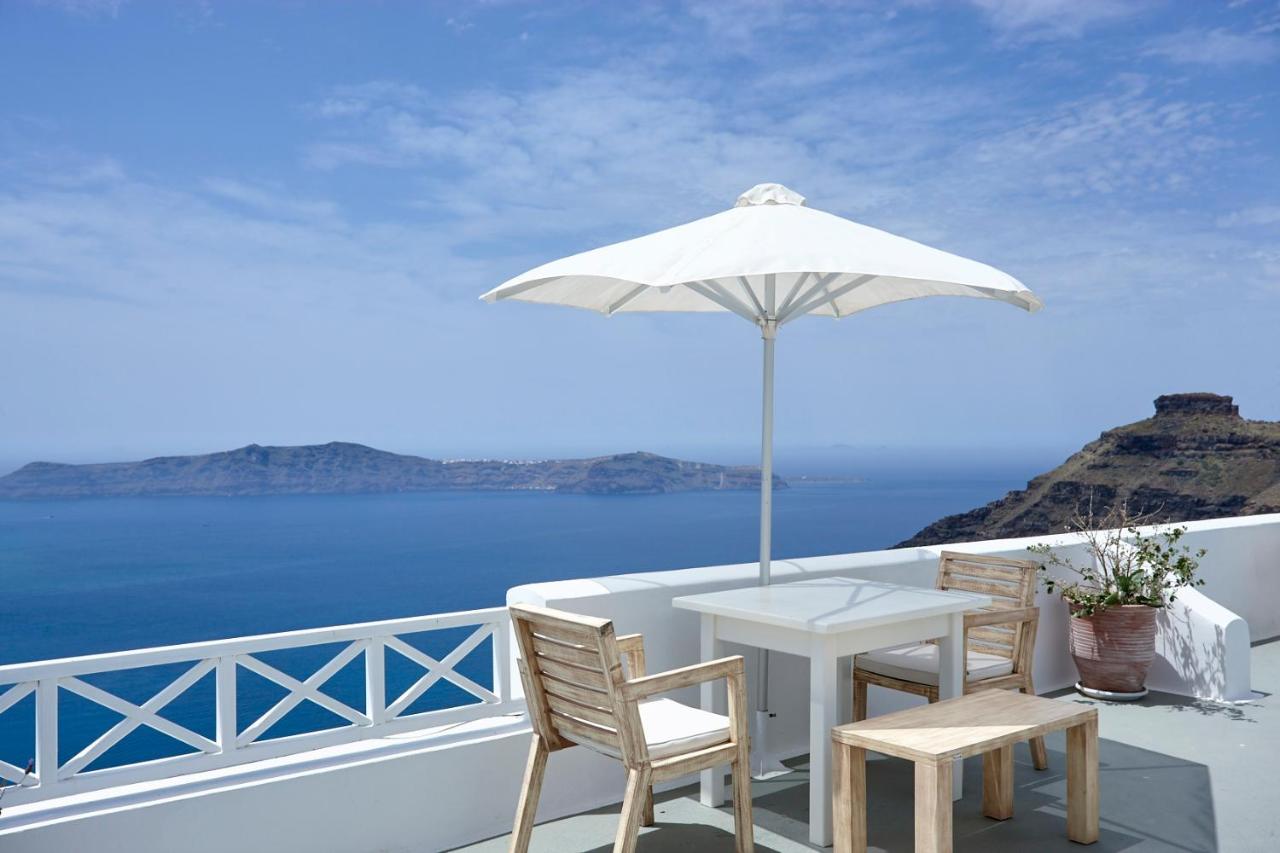 Without a doubt, a trip to Santorini is all about to see Caldera and villages around it. And a perfect stay in Santorini would be in a hotel located just on top of the volcanic cliffs. Manos Small World (booking.com score 8.5 for more than 100 reviews) is a hotel located on a breathtaking surrounding on the edge of Caldera. The good news is, it also offers a Family Suit with Caldera views (meaning slightly lower prices for a family).
Manos Small World is located in Firostefani, just a five minute walk to Fira. It is a great choice to stay close to Fira with some jaw dropping views just off your room. The Family Suit in this hotel has one full bed and two twin beds.
For the prices of Manos Small World hotel, please click here.
For other hotels to stay in Firostefani, please click here.
Abelonas Retreat in Imerovigli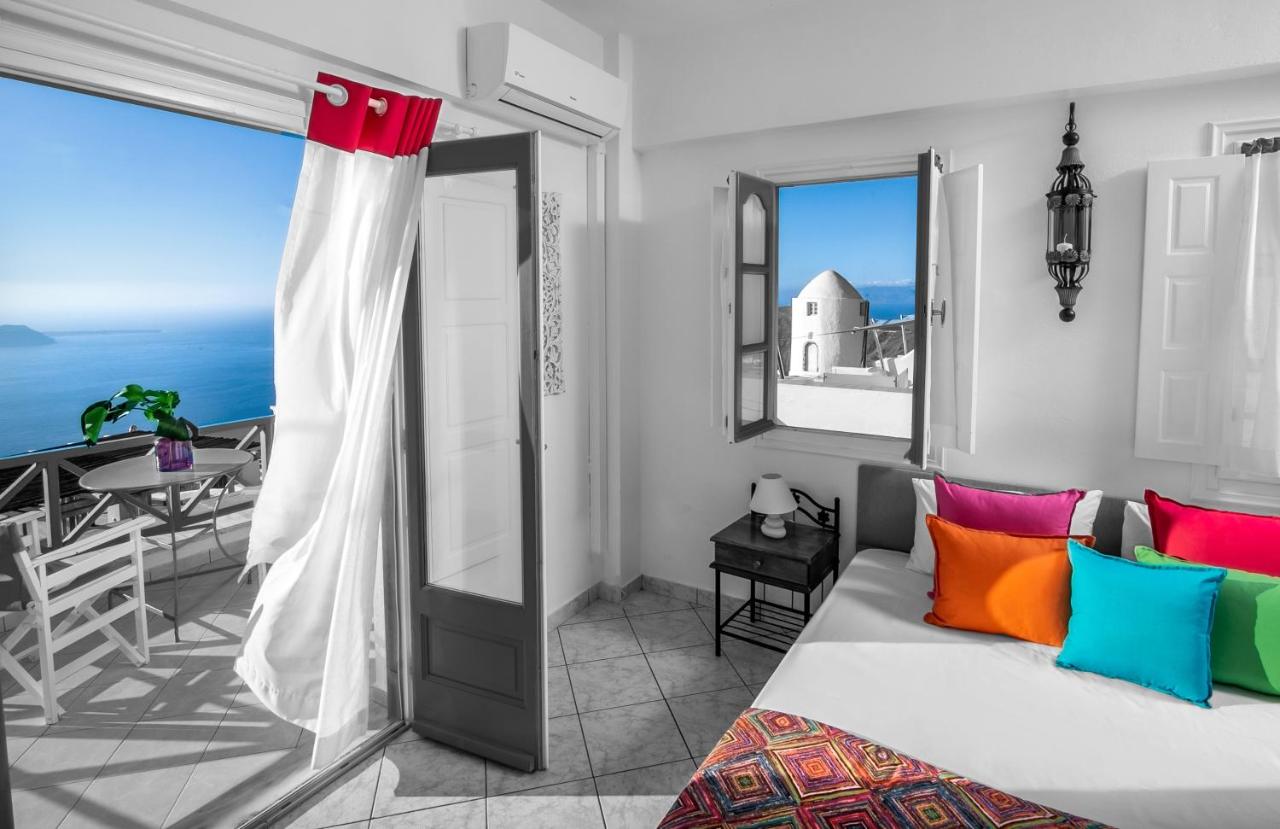 The photo above of Abelonas Retreat hotel's maisonette room is like a summery of a Santorini vacation. It has it all: the Caldera view, a peek of the traditional buildings of Santorini, a whitewashed room with flying curtains. I would choose in a heartbeat to stay in this room if I was staying in the area.
Abelanos Retreat (booking.com score 9.1 for more than 400 reviews) is a Cycladic-style accommodation in Imerovigli village. It has an outdoor pool, poolside bar and serves a wonderful breakfast each morning delivered to your room! The maisonette in Abelonas Retreat is a good choice to stay for families with two separate bedrooms.
For the prices of Abelonas Retreat, please click here.
For more hotels to stay in Imerovigli, please click here.
Doukas Caldera Suits in Fira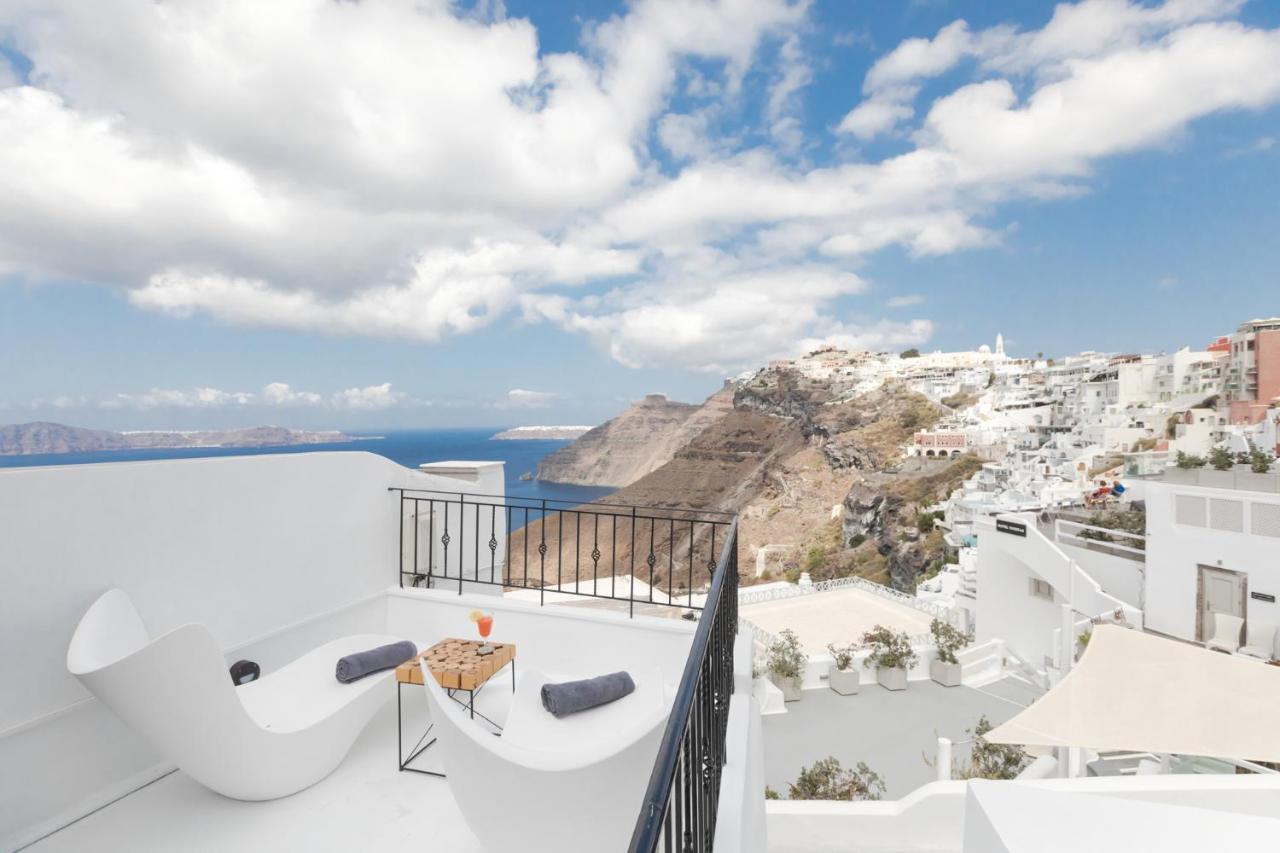 As a mentioned above, sky is the limit for the amenities offered by the accommodations to stay in Santorini. Would you fancy to stay in a room with a private indoor pool? Doukas Caldera Suits (booking.com score 9.7 for more than 100 reviews) offer some outstanding accommodations in the center of Fira. I would say, if you are planning to stay in Fira, don't look further just check this place.
Doukas Caldera Suits offer spacious cave-like accommodations with stellar views. An exceptional architecture, a wonderful breakfast served at your balcony with a view, even an indoor swimming pool to relax in after a day of exploring; this place really looks so promising in so many ways. Families can choose to stay in Doukas Suites in junior suit for three people or in the bigger suit for four people. Both of these suits offer a separate bedroom, a balcony with sea views and a private pool.
For the prices of Doukas Caldera Suits, please click here.
For more hotels to stay in Fira, please click here.